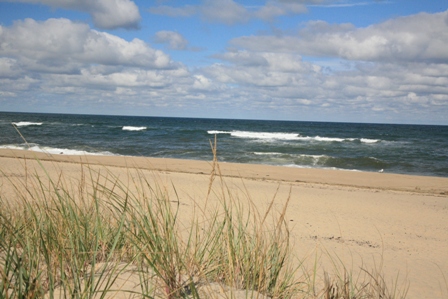 Welcome to Top Mast Resort, located on picturesque Cape Cod, Massachusetts, amidst miles of dunes and wild beach roses, just minutes from historic Provincetown. Top Mast is a distinctive family-owned and operated beachfront resort located on 750 feet of private beach overlooking Cape Cod Bay in North Truro, a town born of the sea. Steps away from the water's edge, our resort offers garden view motel rooms, beachfront motel rooms, one and two room beachfront units with kitchens, two bedroom cottages, one bedroom and three bedroom private beach houses and a trio of four bedroom private shore houses.

Located on the resort property is the Beach Point Health and Swim Club, which is equipped with a large indoor heated pool, hot tub, kiddie pool and slide, steam room, dry sauna, weight room, tennis and basketball court area, lockers, private showers and changing areas, big screen TV's, large outdoor sun deck, ping pong, corn hole, evening fire pit, frozen drinks, beer, wine, snacks, soda and more! Guests of Top Mast are welcome to use this complex free of charge!
Top Mast has a special way with summer! An oceanfront vacation here is casual, comfortable and fun-filled, with the New England hospitality and seaside charm that brings our guests back year after year. Our friendly, attentive staff is always available to provide you with whatever you may need. We strive to create the perfect place for our guests to relax, unwind and enjoy unhurried, quality time with friends and family.
Our guests are welcome to cook up their own magic on outdoor grills (bring your own), or in the fully-equipped kitchens of most of the beachfront units, cottages and houses… or you may also opt to enjoy freshly prepared, tempting breakfasts and lunches served daily and dinner served on Fridays, right here in our on-site restaurant, Top Mast Cafe.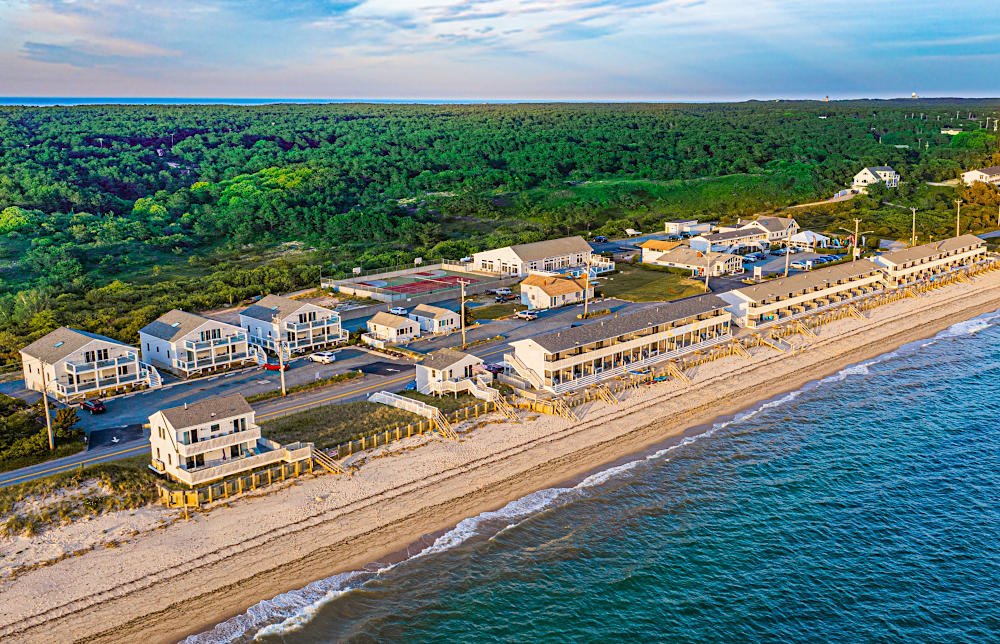 Spectacular Cape Cod sunsets over the bay can be enjoyed right from our beach resort, and our unique location provides easy access to the miles of sand and cliffs of the Cape Cod National Seashore. A myriad of activities are available, from whale watching and deep-sea fishing excursions, guided dunes tours, bicycle and walking trails, golf, tennis unique shops and art galleries, dining and exciting night life. Beyond this, a world of sea, sky and solitude can still be found here, in its dunes that extend endlessly across the landscape, and in the inspiration of a walk along the shoreline.
We invite you to make Top Mast your preferred Cape Cod lodging choice when planning your family vacation or romantic get-away. Each season here has something special to offer, so come and enjoy the very essence of Cape Cod as it swings into Spring, weaves its Summer magic, and relaxes into the calm of autumn's Indian Summer. We are open seasonally every year, early May to the end of October.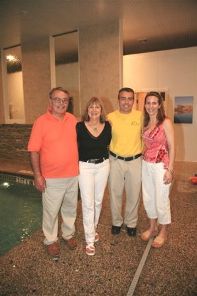 The Family Story:

Al and Nancy Silva purchased the original Top Mast property in the Spring of 1971 and jumped into a motel business which they knew little about. Countless hours of hard work and dedication over many years creat
ed a business that continues to grow today on the foundation they created. Al and Nancy have two children, Jason and Adrienne, who have been working with them at the business since they could walk! In 2004 an opportunity presented itself to expand the Top Mast property by buying the neighboring motel business that was owned by Nancy's parents. It was the perfect opportunity for getting the family to be back together to begin the second generation of Top Mast. It has been many years since the purchase and the start of many, many renovations, additions and upgrades. The Top Mast family continues to grow with the proud addition of four grandchildren.

We invite you to North Truro to enjoy the beauty of the area, and to experience the personal touches of a true "family owned and operated" business!
The Property:

Top Mast Resort is ideally located on Cape Cod Bay directly at the water's edge. We are surrounded by fifty-two acres of unspoiled, beautiful scenic conservation land with walking and bicycle trails. We are also adjacent to the Cape Cod National Seashore, with its miles of uncrowded ocean beaches' a breath taking sight with dramatic dunes and rolling surf. Many say there is nowhere like it on earth.
We are also conveniently lo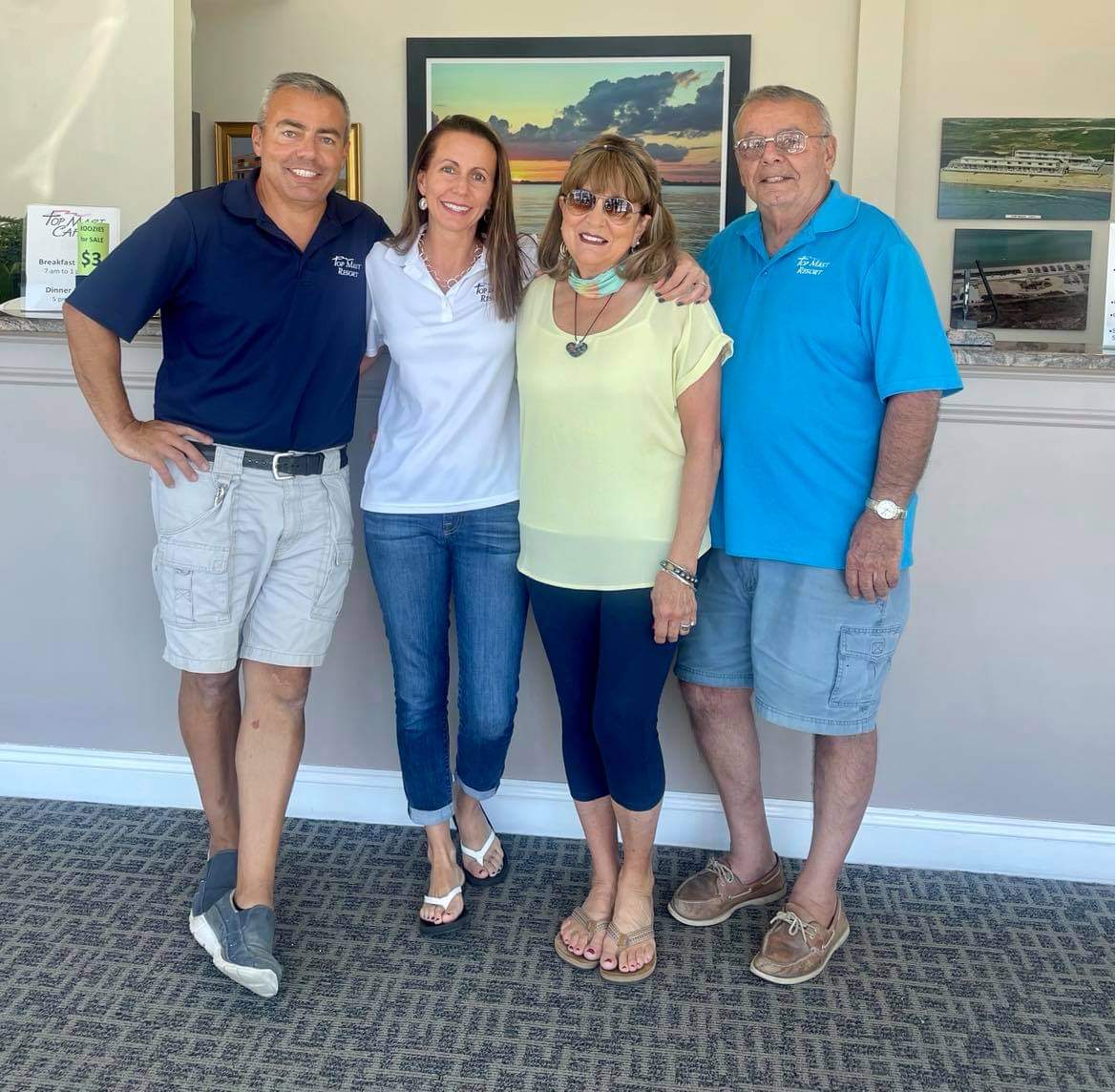 cated less than 10 minutes from Provincetown with its diversity of art galleries, fine restaurants, unique shops, exciting night-life and eclectic entertainment. There is local shuttle transportation available with a designated stop at our resort. It will take you directly to the center of Provincetown, local beaches and other various locations.
Top Mast is nestled on 750 feet of private, groomed beach. When the tide goes out you can walk for miles along the beach and sandbars collecting unique shells, sea glass and stones. Enjoy the sunset from your private deck or balcony.
Free Wireless Internet is provided in all rooms as well as the office area, indoor pool complex, and by the cafe.