Reservations:

1-800-917-0024

Located directly on Cape Cod Bay
in North Truro
Cape Cod Beachfront Resorts and Vacation Rentals

Cottages
Enjoy the extra space and amenities of our two bebroom cottages. Each bedroom has a double size bed and the living area has a sleep sofa. The kitchen, living, and bathroom areas all have ceramic tile floors with carpeting in both bedrooms. Everything from the kitchen cabinets to the bathroom vanity and tub has been recently replaced!
Each cottage has its own private outdoor patio area complete with table, chairs and BBQ area. It is the ideal spot for family lunches and dinners!
The cottages are located across Shore Road and both have a partial water view looking towards Provincetown.
Please see the property map for exact location!
They are are just a few steps away from the sandy beach and only a short walk to our cafe or the indoor pool complex!

Please scroll below the photos for more cottage information.

Both cottages now feature:
Living area
Dining area
Private bath with tub/shower
Two bedrooms, each with one double bed and bureau
A pull out couch, double size
Color Cable TV with remote in Living Area
Central AIR CONDITIONING and Heat
Full size kitchen including:
Refrigerator with separate freezer
Oven and four burner stove
Full size kitchen sink
Microwave
Toaster
Coffee maker
Pots and pans
Utensils and silverware
Dishes and glassware
We even provide daily housekeeping in our cottages!
The perfect location for your family get-away!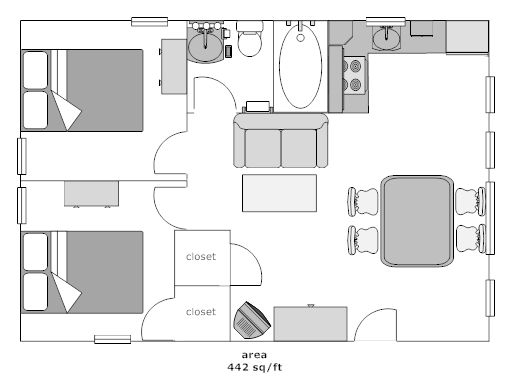 Floor Plan for Two Bedroom Cottage
(Cot 1 has Hanging Wall Shelves, Cot 2 has actual closets)

Both Cottages are NON-SMOKING.
Please visit our Rates & Availability Page for more information
Beachfront Motel Room | Beachfront 1 Room Efficiency | Beachfront 2 Room Efficiency
Garden View Motel Rooms | Cottage (2 Bedroom) | Beach House (3 Bedroom) | Shore House (4 Bedroom)